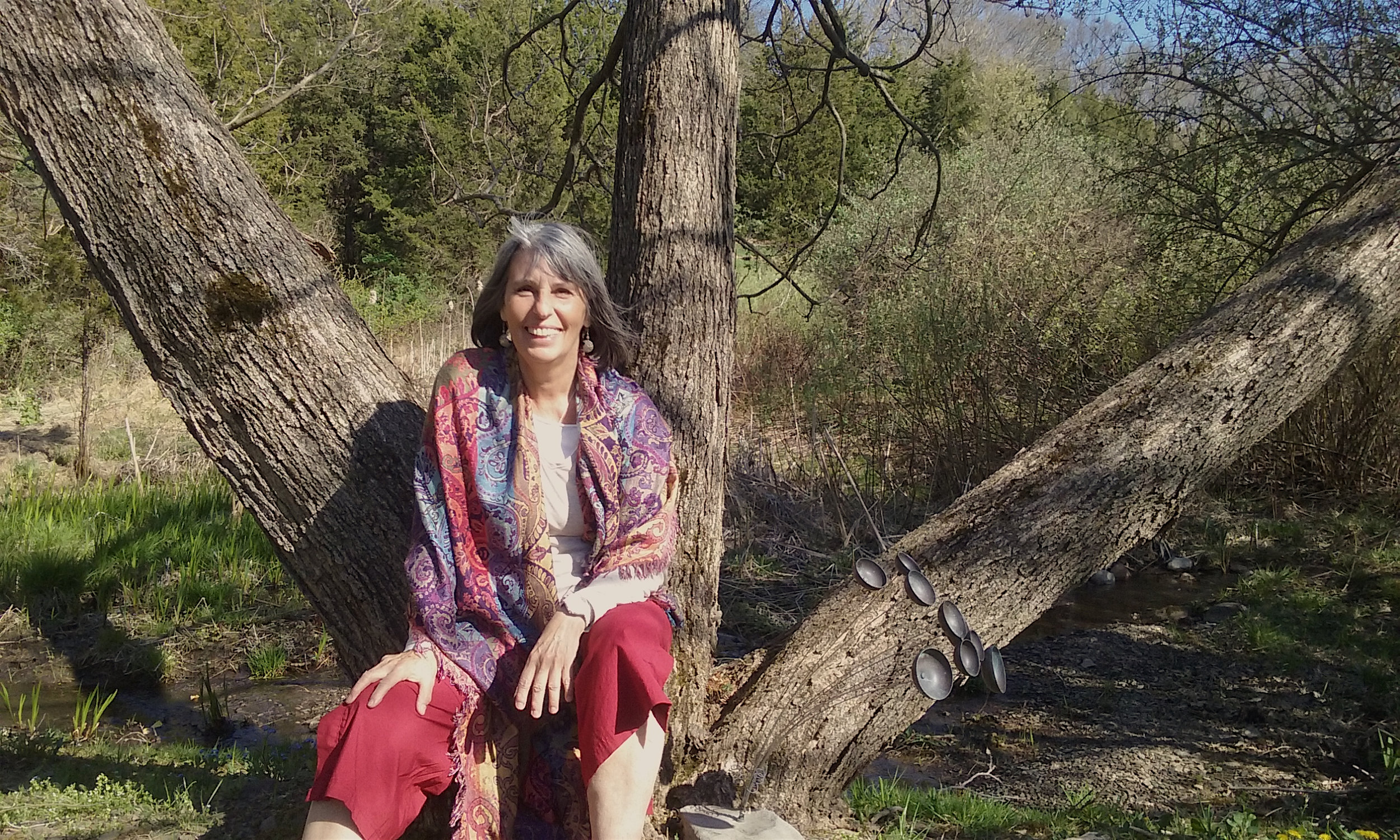 100-Hour Online Basics of Yoga Therapy & Ayurveda Course
Learn at your own pace, study in your own place.
This course is designed to be an independent study. The course consists of 15 professional lessons, training assignments, homework, reading and LIVE mentoring with Paula Tepedino.
That's Fifteen forty-minute LIVE Video Consultations with Paula!
The course is not asana-based like other yoga programs, although asana is addressed from an Ayurvedic perspective. The basics of Yoga Therapy and Ayurveda are introduced using a unique system called the Five Illness Models developed by Dr. Nicholas DiMartino, Paula's graduate doctor who is an M.D. and who excels in the practice of holistic medicine. Dr. DiMartino specializes in Women's Hormonal Health at Woodlands Healing Research Center in Quakertown, PA. He has more than 27 years of diverse experience and graduated with honors from the New York College of Osteo Medicine in New York. He incorporates Yoga Therapy into his Family Practice as well as holistic and traditional methods.
Go at your own pace. Listen and watch the audio and video aides included in the course.
Seal of approval by IAYT as an approved continuing education course.
• Every lesson has reading assignments and study questions
• Paula offers constructive feedback for every assignment and monitors your progress
There is no Pre-Requisite for enrolling in this 100 hour Yoga Course. However, if you are a Yoga Teacher looking for Continuing Education Credits, a copy of your 200 hour Certificate is required.
• You'll be working with a syllabus that was created with more than 10,000 teaching hours behind it
• You will be required to submit homework
• You will be required to attend local weekly yoga classes
• You will be required to attend scheduled LIVE Online Sessions with Paula
Certification Completion
Successful completion of all the course syllabus (15 Lessons)

Submittal of all homework assignments with a 70% accuracy response

Payment of all tuition costs

For Yoga Teacher a 100-Hour Basics of Yoga Therapy Certificate awarded

For non-Yoga Teachers a100-Hour Basics of Yoga Therapy Diploma awarded
Prepare for your online course
Expect to work 4 to 6 hours a week. Choose a quiet place at home. Keep a notepad and list of questions. Get support from friends and family and, if possible, find a mentor and get connected to a local yoga studio.
Know your limits and weaknesses and reach out to Paula for help overcoming them.
What is your final goal?
The more Paula knows, the more she can help you achieve your expectations and goals.
WHAT'S INCLUDED
All lessons are in PDF-password-protected format. Some lessons include video and audio resources that clarify certain subject matter being addressed. Each student is responsible for printing out the lessons.
There are textbooks that go along with the lessons and these are not included in the course tuition.
For the full SYLLABUS,scroll down.
CANCELLATION POLICY
After the deposit is received, the first lesson will be mailed to you. You have 5 days to review the material and if you decide to cancel, your deposit minus $25 processing fee will be refunded.
There is no cancellation policy once the tuition amount is received in full, and after the 5 days review period.
COURSE SYLLABUS
____ Lesson One:
Living Philosophy: History of Yoga

The lineage of Kripalu and Iyengar traditions

Ancient to Modern-Day Yoga

Types of Yoga

Yoga Therapy Foundations

Witnessing and Heart-Centered Perspectives

Maintaining Your Energy

How Disease Starts

Discussion Point Homework for the book, The Untethered Soul

One 40-minute Video Chat with Paula Tepedino (for the 200 hour Certificate Requirements)
____ Lesson Two:
Understanding the Language of Yoga: Sanskrit

Mantra as a Practice

Understanding Om

Blessing of the Limb Mantra

Establishing safe learning space Mantra

Philosophy: Eight-Limbed Path of Yoga

Human Primal Nature: the Gunas

Sanskrit audio file: Blessing of Hands, Om, Establishing Safe Learning Space

One 40-minute Video Chat with Paula Tepedino (for the 200 hour Certificate Requirements)
____ Lesson Three:
Philosophy: The Abstinences - the Yamas

Philosophy: The Obsrvances - the Niyamas

Effects of negativity on our health

Karma

Obstacles & Mental Fluctuations

Stages of obstacles

Lifting the veils of ignorance (avidja)

One 40-minute Video Chat with Paula Tepedino (for the 200 hour Certificate Requirements)
____ Lesson Four:
Basics of Ayurveda

Five Element Theory

Biological Constitutional Life Energies: Doshas

Discovering Your Constitution Form

Six Tastes of Ayurveda

Rules of Balancing Health using Ayurveda principles

Ayurveda and Yoga Therapy

Meal Preparation: Cutting Vegetables, Grinding Spices

Seasonal Changes

Eating for Your Constitutional Type

Self-Care: Oiling of Body (abhyanga)

Abhyanga in Yoga Therapy

Audio File: Questions on Ayurveda

One 40-minute Video Chat with Paula Tepedino (for the 200 hour Certificate Requirements
____ Lesson Five:
Energy Anatomy: Five Sheaths or Koshas: Location, Function, Use in Yoga Therapy

Treatment Chart - How to use during a yoga therapy session

Taking Care of Yourself: the Yoga Kriyas: gargling, tongue scraping, neti pot, eye wash, skin brushing, salt bathing, smudging, moon awareness, oil massage

One 40-minute Video Chat with Paula Tepedino (for the 200 hour Certificate Requirements)
_____ Lesson Six:
Role of Asana in Yoga Therapy

Guidelines for Guiding Asana in Yoga Therapy

Your role as an Observer

Working with Asanas for each Dosha (constitution)

Getting to know your client/student

Anatomy & Physiology: Common terms; the 11 Human Systems

The beginnings of Meditation - Withdrawing Sense Perception Practice: Pratyahara

Perception Exercises to strengthen mindfulness

One 40-minute Video Chat with Paula Tepedino (for the 200 hour Certificate Requirements)
____ Lesson Seven:
Breathwork in Yoga Therapy: Pranayama

Benefits, Precautions and Assists for the practice of Pranayama

Preparation Steps before Pranayama

Breathing Practices: Dirgha, Nadi Sodhanam, Ujjayi, Belly Breathing, Sitali Breathing, Bhastrika

Guidelines for each Pranayama practice

Pranayama suggestions for each Dosha (constitution)

Anatomy of Breathing (Respiration): The Five Vayus - function, location, how used in yoga

One 40-minute Video Chat with Paula Tepedino (for the 200 hour Certificate Requirements)
____ Lesson Eight:
Inner Practices of Yoga: Dharana, Dhyana, Samadhi

How to Guide the Inner Practices

Exercises: candle gazing, palming, mantra, focusing on breath, hand mudras, using mala beads for japa meditation

Benefits of Dharana and Dhyana practices

Using Hand Mudras (gestures) for balancing the doshas: Mahashirsa, Prana, Agni, Anjali, Jnana or Chin, Vishnu

Creating a Meditation Space at Home

Audio file: Meditation Guidance

Yes - One 40-minute Video Chat with Paula Tepedino (for the 200 hour Certificate Requirements)
____ Lesson Nine:
The Art of Relaxation: Savasana

Variations of Savasana Pose

Guiding Savasana in Yoga Therapy for each condition/dosha

Benefits of Relaxation

The Science of Relaxation: an article by Daniel Goleman

Anatomy of Relaxation: Brainwave Patterns: Beta, Alpha, Theta, Delta

How to Guide a relaxation session

Deep Relaxation: Yoga Nidra for each Dosha

Audio file: Relaxation Guidance

One 40-minute Video Chat with Paula Tepedino (for the 200 hour Certificate Requirements)
____ Lesson Ten:
Yoga Nidra: A meditative journey to Blissful Relaxtion

What is Yoga Nidra

Benefits of Yoga Nidra

How to Guide Yoga Nidra

Precautions and Tips for a successful journey to a deeper relaxation session

Steps and Stages of Yoga Nidra

Post-Yoga Nidra

Audio file: Yoga Nidra Guidance

One 40-minute Video Chat with Paula Tepedino (for the 200 hour Certificate Requirements)
____ Lesson Eleven:
Understanding Disease by Dr. DiMartino

Identifying the Five Illness Groups: Symptoms, Endocrine/Chakra, Balance

Anatomy of the Five Illness Groups: Hormone/Neurotransmitter, Digestion/Absorption, Allergy/Immune, Inflammation/Degeneration/Toxicity, Psychological/Spiritual

Understanding the diseases associated with Hormone/Neurotransmitter (highlighting PMS/Menopause)

Understanding the diseases associated with Digestion/Absorption (highlighting IBS, bloating, reflux)

Understanding the diseases associated with Allergy/Immune (highlighting Cancer/Lymphedema, allergies)

Understanding the diseases associated with Inflammation/Degenerative/Toxicity (higlighting Arthritis, Aging)

Understanding the diseases associated with Psychological/Spiritual (highlighting Depression/Anxiety, Trauma, PTSD)

Additional Power Point Presentations and You-Tube videos

One 40-minute Video Chat with Paula Tepedino (for the 200 hour Certificate Requirements)
____ Lesson Twelve:
Five Illness Model Lesson Planning

Guidance for Post-menopausal Syndrome: Benefits, Asanas, Warm-up Exercises, Pranayama, Meditation Technique/Mudra

Guidance for Irritable Bowel Syndrome: Benefits, Asanas, Warm-up Exercises, Pranayama, Meditation Technique/Mudra

Guidance for Cancer/Lymphedema: Benefits, Asanas, Warm-up Exercises, Pranayama, Meditation Technique/Mudra

Guidance for Arthritis/Aging: Benefits, Asanas, Warm-up Exercises, Pranayama, Meditation Technique/Mudra

Guidance for Depression/Trauma: Benefits, Asanas, Warm-up Exercises, Pranayama, Meditation Technique/Mudra

One 40-minute Video Chat with Paula Tepedino (for the 200 hour Certificate Requirements)
____ Lesson Thirteen:
Subtle Anatomy: The Chakra System - The Seven Model System

Sound Healing using the Seed (bija) sounds

7 Mudras for the 7 chakras: Knowing basics like location, sound, color associated with it; Self-study questions for each chakra

Additional Mudra Work: Opening and Balancing Chakras with movement and breathing

One 40-minute Video Chat with Paula Tepedino (for the 200 hour Certificate Requirements)
____ Lesson Fourteen:
Post-Traumatic Stress Syndrome (PTSD)

Definition of PTSD

Types of PTSD

Symptoms

Anatomy and Science Behind PTSD

PTSD and how it effects all five Kosha Levels (physical body, energy body, mental body, wisdom body and center of consciousness body

One 40-minute Video Chat with Paula Tepedino (for the 200 hour Certificate Requirements)
____ Lesson Fifteen:
Designing a Private Yoga Therapy Session

Private Yoga Therapy Information

Incorporating Positive Communication in sessions

Examples of Positive and Negative Phrasing

Using Questions to help uncover deep-seated issues

How to use private yoga therapy sessions to help others

Profession Disclosure Form

Intake Health Information Form

One 40-minute Video Chat with Paula Tepedino (for the 200 hour Certificate Requirements)
Required Textbooks
Human Anatomy Coloring Book - Margaret Matt - new only -
ISBN-10: 0486241386
ISBN-13: 978-0486241388
The Untethered Soul - Michael Singer - used or new
ISBN-10: 1572245379
ISBN-13: 978-1572245372
Yoga for your Type - Frawley/Kozak - used or new
ISBN-10: 091026130X
ISBN-13: 978-0910261302
Yoga Nidra - Saraswati - used or new
ISBN-13: 978-8185787121
ISBN-10: 8185787123
Yoga Sutras off Patanjali - Swami Satchidananda Translation - used or new
ISBN-10: 1938477073
ISBN-13: 978-1938477072
Anytime Anywhere Yoga Warmups - Paula Tepedino (available through Paula)